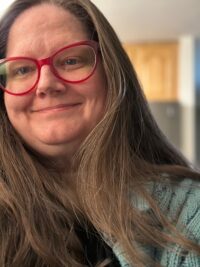 stitching fabric and paper makes me happy
Hi, I'm Carrie Payne, a self-taught fiber artist and quilter with three chaos prone cats.
By day, I'm a business analyst writing process documentation, and organizing chaos.
By night and weekend, I combine fabric, thread, paper, and found objects to create art quilts, fabric books, journals, and other stitched creations. 
You can see my art in person at the following galleries:
Girdwood Center for Visual Arts – Girdwood, Alaska
Dos Manos – Anchorage, Alaska
You can find artwork, patterns and text print fabrics in my Etsy Shop.
Want to watch me make art? See videos on YouTube.
Contact me via email: carrie@believemagic.com.