I'm trying to rush through a few things on-line while Troy naps. My laptop was taken to the Apple Store today for repair – he is broken and needing a little professional TLC. With any luck, the Mac Genius said, he may return by the weekend. Keep your finger's crossed that it's true.
This week there was lots of work on my entry for the month of softies…but I'll post that shortly in seperate entry.
I spent most of the weekend experimenting with printing on fabric. I tried this during the holiday crafting on store bought inkjet sheets. My printer wasn't too happy about them and they are expensive – about $8 for 3 sheets. I'd researched how to do yourself and found a solution called Bubble Jet Set. I'm in love! Not only did finding the big bottle involve a wonderful trip to new fabric store (an old train station), I made a few new friends along the way who invited me to lunch and the shopping.
After following the directions and preparing the fabric. I played with photoshop for images and Word for, well, words and here's what I created.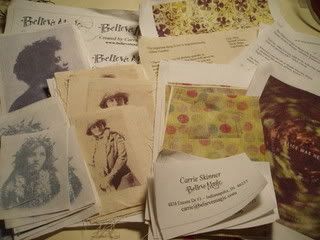 There were 16 sheets prepared on various weights and shades of cotton fabric. I was able to successfully print on 14 of them and used about 1/3 of the bottle of solution. The bottle was $16. I think I have found both a better method (since my printer likes the homemade sheets better) and a more cost friendly method. Next I try different colors of fabric!
I needed a fun Valentine-ish craft for the Postcard Fairy newsletter. I created lace painted paper by painting a stip of wide lace and pressing cardstock under and over the painted lace. The effect was great and will make nice Valentine postcards!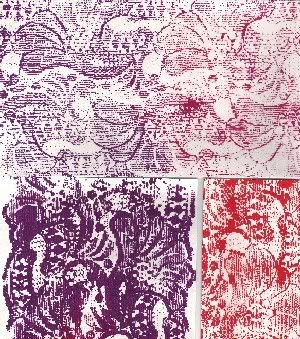 And with all the printed fabric, I needed to try it out…I created a rainbow of journal covers (or fabric cards). I added a few beads, ribbon to tie it closed and now I just need to insert some pages!